Scheduled Events
LIVE MUSIC
Outdoors, Weather Permitting

Sal & Dean

Julie B

Ann Christoffer

Jay Hoffman

*Changes and Additions
Are Posted on Facebook

Sun, Oct 3, 2-5 pm

Sun, Oct 10, 2-5 pm

Sun, Oct 17, 2-5 pm

Sun, Oct 24, 2-5 pm
Scheduling Your Events at Vernon Vineyards

Vernon Vineyards Tasting Room can elegantly seat 50 people for events. Please email, text, private message, or call us to explore how we can help make your next event special.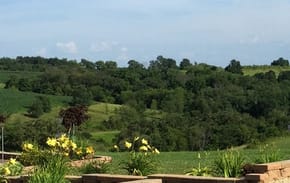 Our picturesque views and gracious accommodations will enhance your next meeting, shower, party, or other special event. We welcome private and public, professionally or self-catered events
Birthday Parties

Bachelor/Bachelorette Parties

Bus Tours

Snow Shoe & Winter Hikes

Car Club Tours

Wedding Rehearsals

Family Reunions

Girls-Nights-Out

Business Events

Music Events

Smaller Weddings

Book Clubs

And More ...
For larger events, Pedretti's Party Barn is the perfect venue. (See the Pedretti's Party Barn page and photos on this website.) Pedretti's Party Barn - the area's most scenic and unique large event venue - is situated right at the edge of our flowing vineyard. It is owned and operated by the same staff as Vernon Vineyards Winery & Tasting Room, so we can help you select the perfect accommodations for your special event.. For your personal consultation, email: Deanna@VernonVineyards.com, or call/text her at 608-632-7042.
Our Events
Events sponsored by Vernon Vineyards and/or Pedretti's Party Barn are posted on their respective Facebook pages. Please check Facebook often. Or, better yet, "LIKE" our pages so you don't miss any opportunities or events.
In the summer, enjoy for our free Sunday afternoon outdoor music series, featuring a variety of popular artists and genres on our covered deck. Seating is available on the deck, the patio, or the expansive hillside lawn.
Other events we have hosted include: dessert and wine pairings, cheese and wine pairings, musicians, major craft and vendor fairs with lunch and beverages, dinner theatre, auto tours, book signings, holiday and graduation parties, anniversary celebrations, volunteer and customer appreciation events, and (of course) weddings.
You are welcome to sign up for our newsletter that includes information about events, specials and other information. Just send your name and email address to Barbara@VernonVineyards.com
Tours
We welcome your interest in what is happening at Vernon Vineyards. You are welcome to stop by to watch the care of the vineyard, including the harvest. We are happy to show you our facilities, discuss the development of cold-climate grapes, share the history of grapes and vineyards in Vernon County, and other related topics. For a formal presentation, please call ahead so we can have staff available, and so that we can tailor our presentation to your needs. Deanna@VernonVineyards.com or 608-632-7042. Bring your camera!
Harvest
If you would like hands-on experience harvesting grapes, just send your name and email address with a note to Info@VernonVineyards.com and you will be added to our E-notifications when we harvest. The harvest is a social and rewarding experience! Notifications are also posted on Facebook.
Because the harvest is very time sensitive, taking into consideration the brix (sugar content/ripeness) of the grapes, and the scheduling of deliveries to our large-quantity grape purchasers, plus our own grape crushing and processing schedule there is usuaally very little advance notice. Harvesters are invited to come when they can, and leave when they must.