Scheduled Events
Keep an eye on our socials for new events starting in 2023!

LIVE MUSIC - Sundays 2-5 PM 2022 Schedule

Enjoy for our free Sunday afternoon outdoor music, featuring a variety of popular artists and genres on our covered deck. Seating is available on the deck, the patio, or the expansive hillside lawn.

June 5 - Andreas Transo (Food: Papa's BBQ)
June 12 - Barry & Sherri
June 19 - Jay Hoffman, Dylan Harris & Friends
June 26 - Sal & Dean


July 1 - Lone Goat Rodeo Event in Pedretti's Party Barn


Music by: People's Brother Band & Eric Tessmer
Doors open at 5 pm; Music at 7 pm (Food: Maybe Lately)
July 10 - Bob Bovee
July 17 - Don D Harvey Duo
July 24 - The Parrish's
July 31 - Dan Sebranek
Aug 7 - Andreas Transo
Aug 14 - Lou Shields
Aug 21 - Ann Christoffer (Food: Dave's Pizza)
Aug 28 - John Smith; Dan Sebranek
(Food: Uncle Perry's BBQ)
Scheduling Your Events at Vernon Vineyards
Vernon Vineyards Tasting Room can elegantly seat 50 people for events. Please email, text, private message, or call us to explore how we can help make your next event special.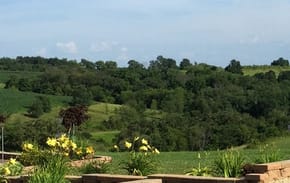 Our picturesque views and gracious accommodations will enhance your next meeting, party, or other special event.
For large events, Pedretti's Party Barn is the perfect venue. (See the Pedretti's Party Barn page and photos on this website.) Pedretti's Party Barn - the area's most scenic and unique large event venue - is situated right at the edge of our flowing vineyard. It is owned and operated by the same staff as Vernon Vineyards so we can help you select the perfect accommodations for your special event. For your personal consultation, email: Info@VernonVineyards.com, or call/text her at 608-632-7042.
Our Events
Events sponsored by Vernon Vineyards and/or Pedretti's Party Barn are posted on their respective Facebook pages. Please check Facebook often. Or, better yet, "LIKE" our pages so you don't miss any opportunities or events.
In the summer, enjoy for our free Sunday afternoon outdoor music series, featuring a variety of popular artists and genres on our covered deck. Seating is available on the deck, the patio, or the expansive hillside lawn.
Tours
We welcome your interest in what is happening at Vernon Vineyards. You are welcome to stop by to watch the care of the vineyard, including the harvest. We are happy to show you our facilities, discuss the development of cold-climate grapes, share the history of grapes and vineyards in Vernon County, and other related topics. For a formal presentation, please call ahead so we can have staff available, and so that we can tailor our presentation to your needs. Info@VernonVineyards.com or 608-632-7042. Bring your camera!